Boats (3)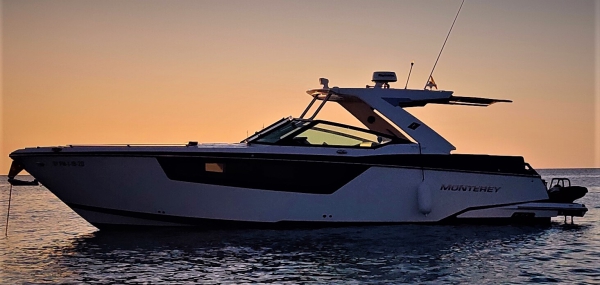 approx. 1.900€/DAY (incl. Toymaster with skipper licence and avarage gasoline consumption. 
TOYMASTER YACHT specifications:
12 x 4 m  bow rider YACHT - speed boat
official registered and fully insured CHARTER BOAT (6a registration)
fully equipped with modern dive scooter
snorkling gear (high quality masks)
allowed max.12 persons (build for 18 persons seated) 
2 x 400 HP  V8 green (catalysator) Engines
Extractable shade, additional full size front shade
pristine sound system
hot shower, WC in seperate large bath room, permanent water supply
extra wide stare case confortable boarding ladder
registered commercial berth in the port of Cala Ratjada
several refrigerators and ice box storrages,  unlimited soft drinks & beer (toys can not be used when drunk!)
including fuel
optional gourmet catering (+34€/pax, one day advance notice)
Rental Conditions:toymaster (toy instructer) includedtrainer holds captains licence
30% down payment on reservation
rental period is one day  (max. 8 hours)
refundable payment if weather conditions prevent safe voyage   
The TOYMASTER Charter YACHT is the perfect ALL IN ONE package! Enjoy with up to 11 people a leisure day on a luxury big boat in the best cruising area on Mallorca.
The TOYMASTER YACHT is fully equipped with state of the art luxury toys. Even on the biggest mega yachts you won't find such a toy selection.
You can charter this boat with, or without skipper (toymaster). Up to 11 people can lay in the sun or in the shade. THe boat is built for up to 18 people.
Charter laws on Mallorca only allow max. 12 passenger, regardles of the boats size.
Boot oder Yacht mieten in Cala Ratjada. Mieten Sie die schönste Yacht im Nordosten Mallorcas.  
Die TOYMASTER Yacht ist eine in Cala Ratjada/ Llevant Naturschutzgebiet konkurrenzlose Day Cruiser Charter Yacht mit Vollausstattung und
gewerblichen Liegeplatz in Cala Ratjada.
Die US Marke "MONTERAY " ist der Cadillac der Meere und lässt Dich im Amerikanischen Italo
Style komfortabel mit bis zu 12 Personen übers Wasser fliegen.
Die Küste im Rausch der Sinne vorüber ziehen zu lassen, feiern & im Meer planschen, die Luxury Toys an Board erleben, eine erfrischende oder warme Dusche, und in der Sonne oder im Schatten eiskalte Getränke geniessen und  zu chillen das ist die TOYMASTER Yacht. !
Auf der backbord Seite unter Deck befinden sich erstaunlich geräumige sanitäre Einrichtungen, die man auf einer 12 m nicht vermuten würde. Das WC/ Bad ist wie zuhause mit vorschriftsmässiger Entsorgung ausgestattet, so dass "Day Cruiser" nicht nur ein leeres Versprechen bleibt, wenn es darum geht alle Annehmlichkeiten und Standards an Bord zu bieten. 
Auf der Steuerbord Seite unter Deck, eröffnet sich ein kleiner Salon/ Rückzugsbereich mit Sofa und sogar Queen Size Doppelbett.
Gleichwohl wird Day Cruiser Luxus fokussiert, anstatt ein "schwimmendes Wohnmobil" mit unnötigen Ballast darzustellen, denn es geht um den perfekten Tag und nicht um eine angenehme Nacht. 
Nur US Amerkanische Bowrider bieten vorne eine direkt und einfach zugängliche grosse geschützte Sonnenoase, mit sicheren
Sitz- & Liegeflächen. Das sind insgesamt 12 x 4 m Fläche auf einer Ebene, mit bequemen Zugang zum Wasser.
Durchweg breite Sitze, weiche Lehnen, Armelehnen, Wetbar, Kühlschränke, Eiscooler, variabler Tisch , USB plugs, elekt. Markise,
unzählige Cupholder mit Abfluss, heisse Innen-, und Aussenduschen, und eine satte Soundanlage ist die US Version der top Ausstattung.
2 x 400 PS 8,2 Liter V8 Maschinen lassen die "TOYMASTER" entspannt per Autopilot erstaunlich ökologisch und kosteneffizient
cruisen. Der Joy Stick mode hilft zudem beim manövrieren und einparken der 12 m Yacht. 
Als US Power Boot ist die TOYMASTER mit  bis zu 40 Knoten/ ca. 80 km/h auch die schnellste Yacht im Stall.
Die TOYMASTER ist standardmässig mit einem Tauchscooter ausgestattet. Auf Anfrage ist auch ein elektrisches Surfboard verfügbar.
Es bleiben wahrlich keine Wünsche offen, um einen stilvollen, sportlichen, und erholsamen Tag im besten Fahrtgebiet von Mallorca war werden zu lassen.
Sunday, 12 April 2020 21:18
299€/DAY all incl. (max. 5 passengers) 
boat Specifications:
5 x 2 m center console boat
official registered and fully insured CHARTER BOAT (6a registration)
fuel incl.! (one day range fuel tank)
allowed max.5 persons (build for 6 persons seated) 
1 x SUZUKI 15 HP OUTBOARD (2018)
full size sun bed
sound system
large dry storrage
boarding ladder
Port of Cala Ratjada
ice box on board
including fuel
full introduction with maneuver training
Rental Conditions:
passport /ID check
payment in advance
30% down payment on reservation
10% discount on min. 20 day prenotice
minimum rental period is one day (max. 8 hours)
refundable payment if weather conditions prevent safe voyage  
 The DIVA is the biggest licence free rental boat in Cala Ratjada! "DIVA" is the  newest SILVER YACHT model  (boat picture with the blue cushions) with even more space and a full size sun deck! 
The DIVA is perfect for a full day in the beautiful bays around Cala Ratjada, Natural Reserve Area "LEVANTE". 
Rent a licence free boat in the best cruising area on Mallorca ( from Canyamel to Cala des Marzoc/ Torre Aubarca).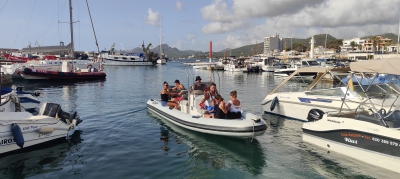 HYDROSPORT RIB 7m 590€ / day!
145 HP
up to 12 people (max. 8 recomended!)
stepped hull design/ 70 km/h fast
Low consumption SUZUKI fuel injection Outboard
Hypalon tubes
Rental Conditions:
book in advance or check availability
500e deposit
Licence required